How Many Main Missions Are In Dead Island 2? Full Mission List
Dead Island 2 has a total of 24 main missions, which see you explore the game's open regions of Los Angeles while investigating the reason for your immunity to the zombie pathogen. If you want to know how far along you are in the game, take a look at our full mission list for Dead Island 2 below.
Dead Island 2 Mission List
All 24 missions in Dead Island 2 must be completed in the below order, and none of the missions can be skipped. Completing each mission rewards your with XP, while some special missions reward you with unique weapons or mods.
You can view your available missions any time in the Quests tab, which also lists your available side quests – there are 33 side quests in Dead Island 2.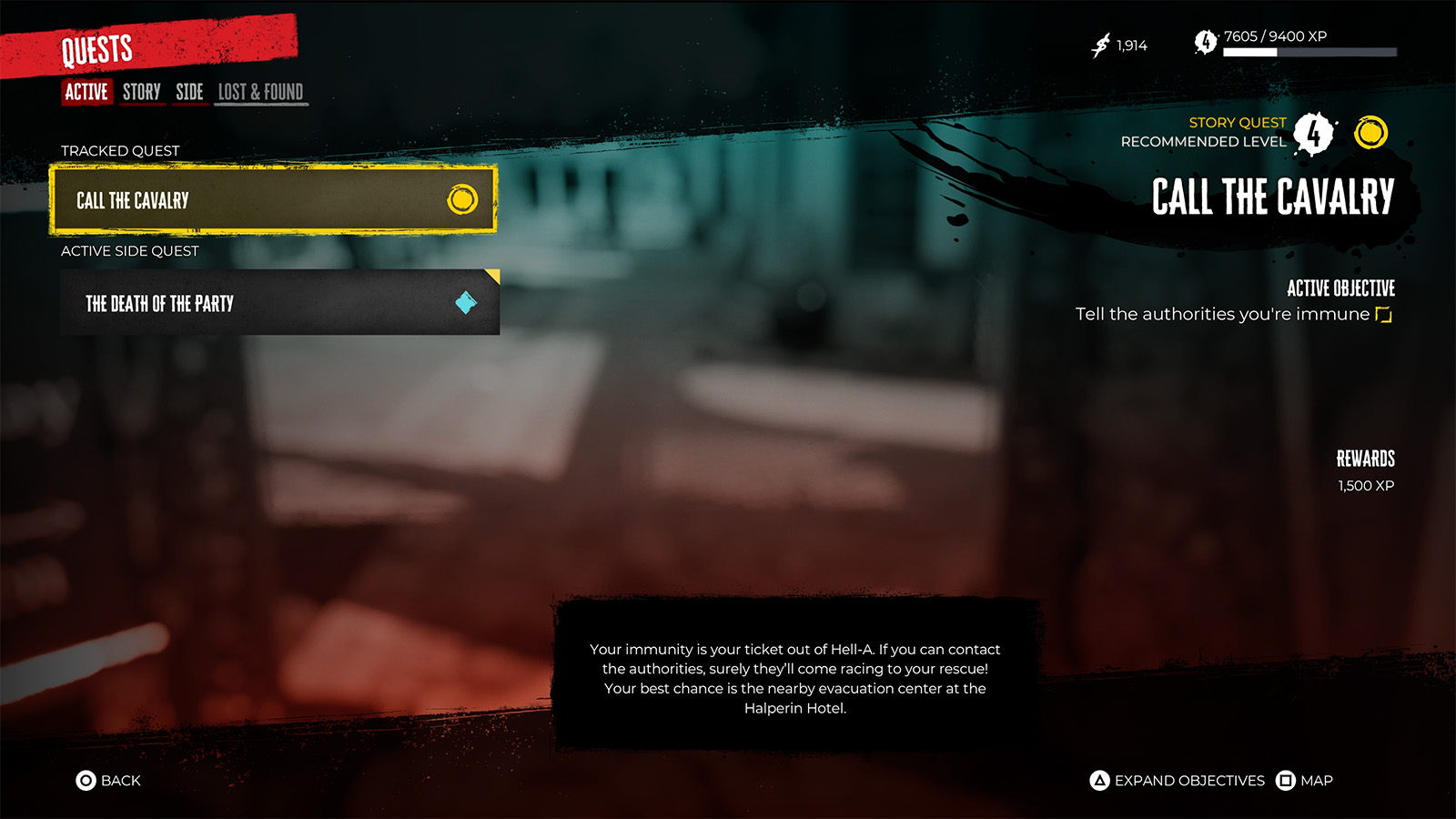 It takes around 15 hours to complete the main story, although this will vary depending on how many side quests you decide to do and how much exploration you do too.
All main missions and the order in which you play them, as well as which missions unlock trophies, are as follows:
1: Flight Of The Damned
2: Desperately Seeking Emma
3: Bel-Air Brawl (Awards the Welcome To Hell-A trophy/achievement)
4: Call The Cavalry (Awards the Hotel California trophy/achievement)
5: Room Service For Major Booker
6: The Chosen One
7: O Michael, Where Art Thou?
8: Kwon With The Wind
9: Michael Anders And The Holy Grail (Awards the Personal Assistant Personally Assisted trophy/achievement)
10: Justifiable Zombicide (Awards the Git Gutte! trophy/achievement)
11: Saddle Up For Santa Monica
12: Flushed
13: The Heart Of Darkness
14: The Red Mist (Awards the Friends Like These trophy/achievement)
15: The Giant-Slayer
16: Beach Offensive
17: The Final Gauntlet (Awards the Dr. Reed, I Presume? trophy/achievement)
18: Blood Drive
19: Plumbing The Depths
20: Boardwalking Dead (Awards the But Doctor, I Am Butcho trophy/achievement)
21: The Search For Truth (Awards the Can't Handle The Truth trophy/achievement)
22: Rage Quit (Awards the Like Riding A Bike trophy/achievement)
23: The End Of The Line (Awards the A Patton Emerges trophy/achievement)
24: Hollywood Ending
Once you've finished the game, you'll be able to roam all regions and revisit previous areas to find any remaining collectables and complete any of the game's 33 side quests or other activities.
That's our guide to all the main missions in Dead Island 2. Check back for more guides soon and good luck!