CD Projekt Red Delays New Cyberpunk 2077 Updates And Free DLC To 2022
CD Projekt Red has delayed all new Cyberpunk 2077 updates and free DLC to 2022.
CD Projekt Red released an updated roadmap for Cyberpunk 2077's post-launch content this week. The new roadmap reveals that the game's 1.31 update, which was released back in September, will be the last update of 2021, and all future updates including free DLC have been pushed to next year.
The news comes a week after the game developer delayed Cyberpunk 2077's next-gen update to Q1 2022 and The Witcher 3's next-gen update to Q2 2022.
Cyberpunk 2077 was released in December last year and CD Projekt Red announced at the beginning of 2021 that the game would receive several updates and improvements, as well as free DLC. To date, CD Projekt Red has released only one free DLC pack consisting of two jackets and the Quartz Bandit car.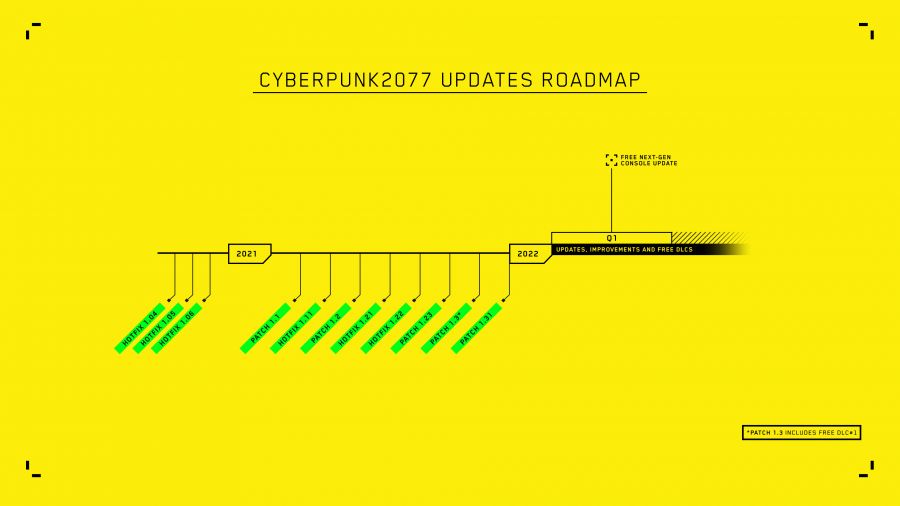 At launch, the game was panned for its lacklustre performance on consoles, being so buggy that Sony and Microsoft accepted refunds for digital copies. The game was also pulled from the PlayStation Store for several months.
CD Projekt Red has released numerous patches in an attempt to fix the game's issues, and although the game runs better on consoles now than it did at launch, there are still several glaring problems with the title that need addressing.
Unfortunately, players will have to wait until 2022 for all future fixes, DLC, and the highly-anticipated next-gen update.