Tin Hearts Review – Playing With Toys Has Never Been So Puzzling
It's been just over two months since I was given the opportunity to preview Rogue Sun's debut title Tin Hearts. Now, after having finished the game, and with it out now on all consoles, I can say that Rogue Sun has created an adorable, heartfelt, and often head-scratching puzzle game that will have you feeling nostalgic for the long-gone toys you spent your childhood with.
For those who don't know, Tin Hearts is an adventure puzzle game that chronicles the emotional story of inventor Albert Butterworth and his family across multiple generations, all while you're tasked with guiding a group of tin soldiers from their toy box across the environments of an alternate-Victorian home in a Lemmings-inspired manner towards a golden door, all without them smashing.
Guiding The Soldiers
It sounds simple on paper, and the game started like that but eventually evolved into large, intricate puzzles that sometimes took half an hour or more for me to solve. I began by directing tin soldiers across window ledges and tables, where they changed direction by bumping into walls or objects within their environments. Eventually, I had to start possessing and placing blocks with carved shapes into their respective pegs, before moving to freely-placeable blocks.
This again grew, and over the course of the game's 40+ levels, I had to directly control a tin soldier to reach unattainable locations and gadgets, use drums as trampolines to bounce soldiers around, use inflatable balloons and directable pinwheels to guide soldiers across large gaps, and use cannons to shoot targets around my environment.
Some of these mechanics blended too, such as toy trains with bounceable drums on top that must be moved into a specific position before soldiers can use them safely or flying pirate ships on pulleys that must be lowered by shooting a cannonball onto them to clear pathways. There's so much more than that too, but everything was steadily introduced throughout the game, so I was never overwhelmed by everything available to me.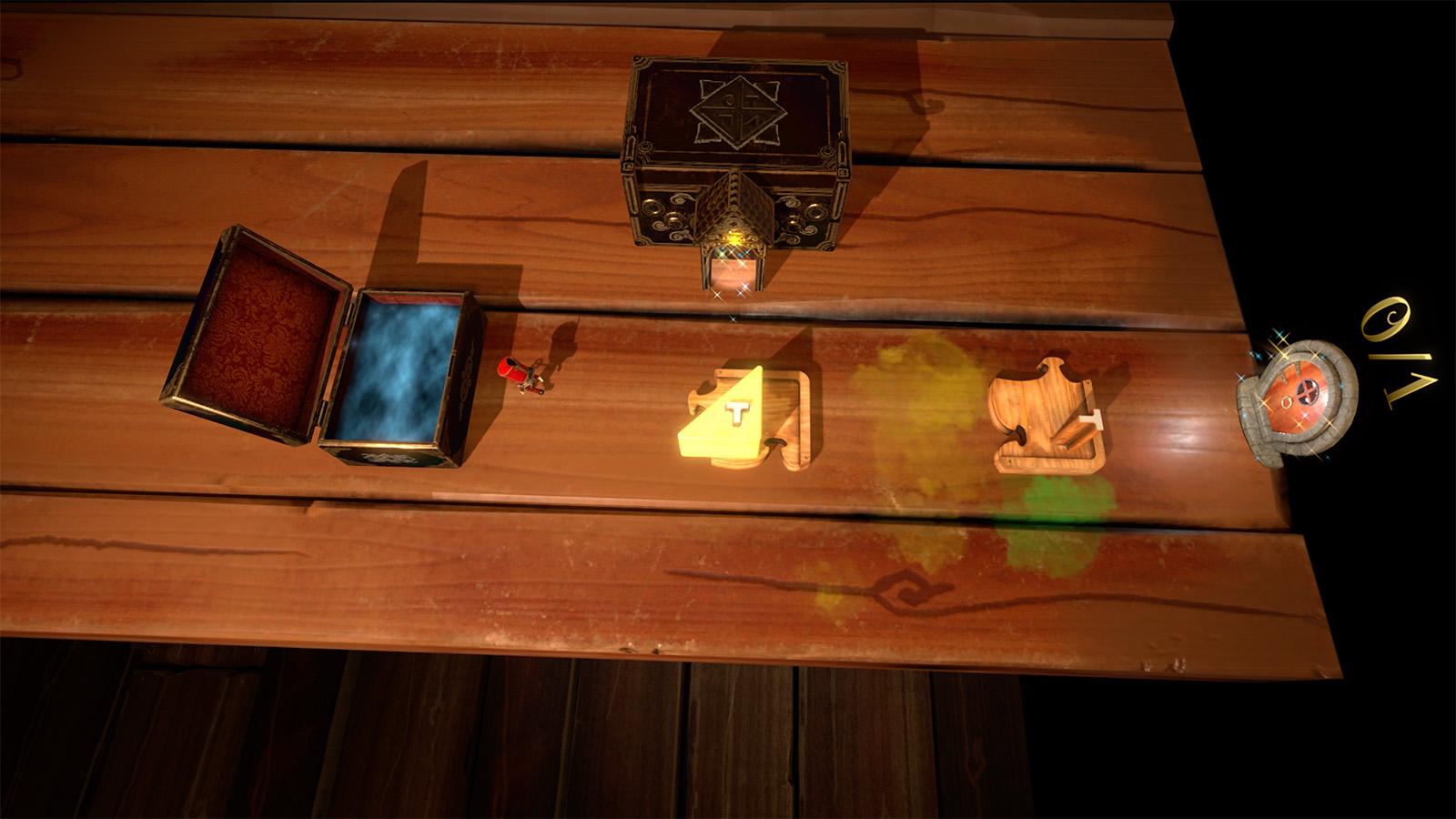 Guiding the tin soldiers was done by exploring the 3D environments as some sort of spirit or memory to locate and manipulate all interactable gadgets, but this was at times frustrating as I often found myself, particularly later in the game, spending more time running around to fetch blocks or possess items than solving the actual puzzles within a level. This was sometimes accompanied by the odd issue of moving through the environment and getting stuck on doors and the game being inconsistent with what objects I could and couldn't pass through as the spirit-memory.
You only need one soldier to pass through the golden door to complete a level, but helping all soldiers within each level works towards 100% completion and offers that little more challenge.
Thankfully, Rogue Sun has generously provided a range of tools to help guide the soldiers. You can pause time, which conveniently highlights some of the path your soldiers will take so you can strategically send them on their way and make adjustments as needed. You can also fast-forward time to speed soldiers up and rewind time if you make a mistake to instantly rectify it and revive any lost soldiers.
There are also optional hints accessed through the pause menu for anyone that's really stuck, although completing each of the four acts using limited hints awards a trophy or achievement for all you 100% completers!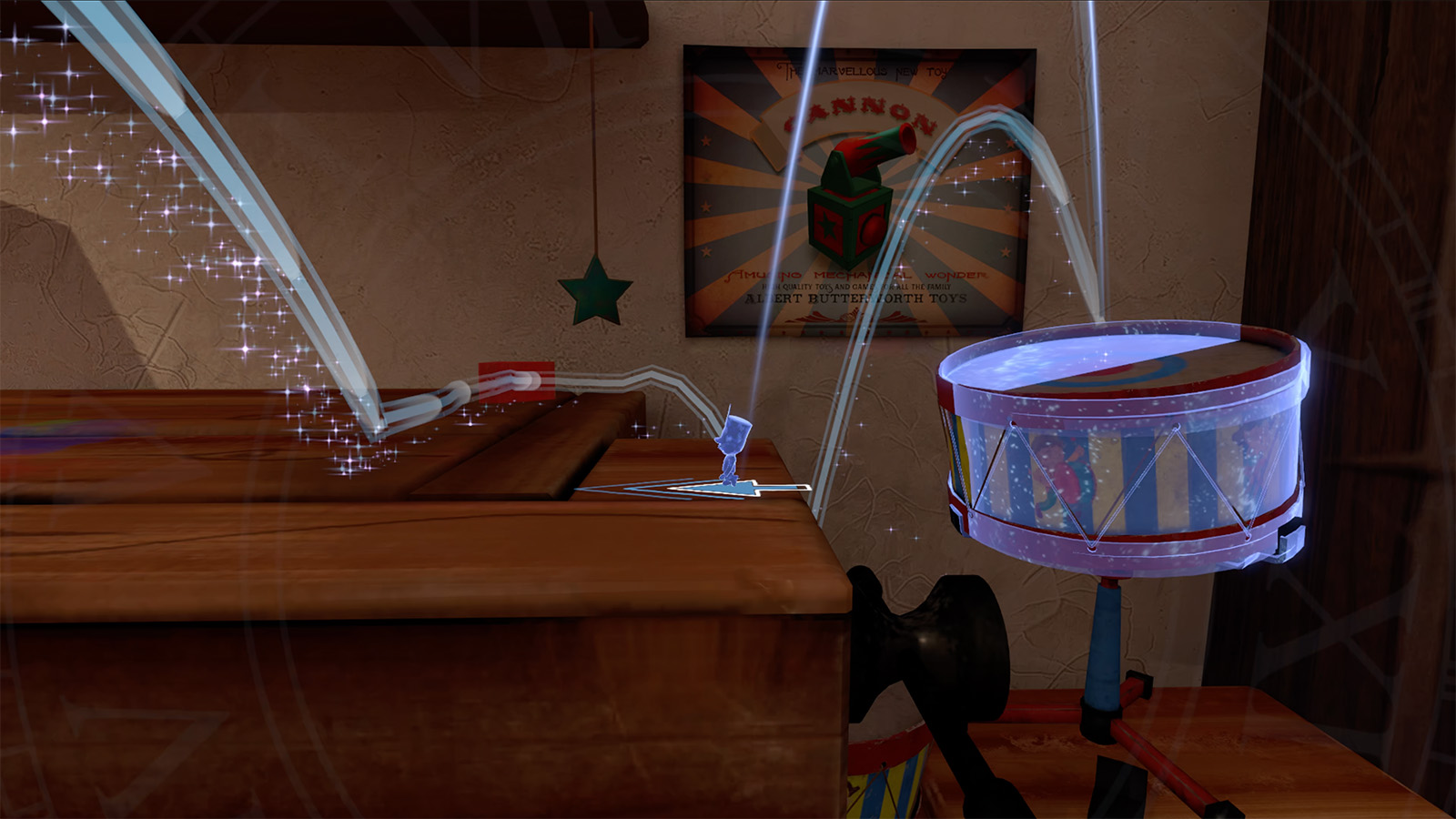 I sometimes found myself frustrated with the rewind mechanic, as the game was somewhat inconsistent with what could be rewound and what couldn't – soldiers were always affected, along with switches and moveable trains, but rewound blocks never moved back to their initial locations, which meant I would sometimes lose soldiers or accidentally send them in different directions without meaning to. A slight annoyance, but nothing too serious. 
While helpful, the abilities didn't make solving each level overly simple. Instead, I found myself spending lots of time trying to work out the best way to help all soldiers, which led to many hours stuck within levels until I continued with the minimum number of soldiers required or finally found a solution. For a majority of levels, you simply can't save all soldiers on your first playthrough, with the game encouraging you to replay the level once you've found the solution.
Exploring A Family Home With Lots Of Memories
While playing the game, you'll explore the Butterworth home and its grounds. Throughout the four acts, I found myself guiding soldiers across a music room, a sitting room, an expansive garden, Albert's daughter's bedroom, and the dark and dank basement, where Albert conducts most of his experiments.
Although I visited some rooms of the Butterworth house more than once, the levels were always varied, with new puzzles in previously-visited rooms and lots of environmental obstacles to work my way around. Puzzles weren't ever the same, and there is more than one way to complete each level, offering plenty of replayability, particularly as some of the game's trophies and achievements require you to complete levels in certain ways.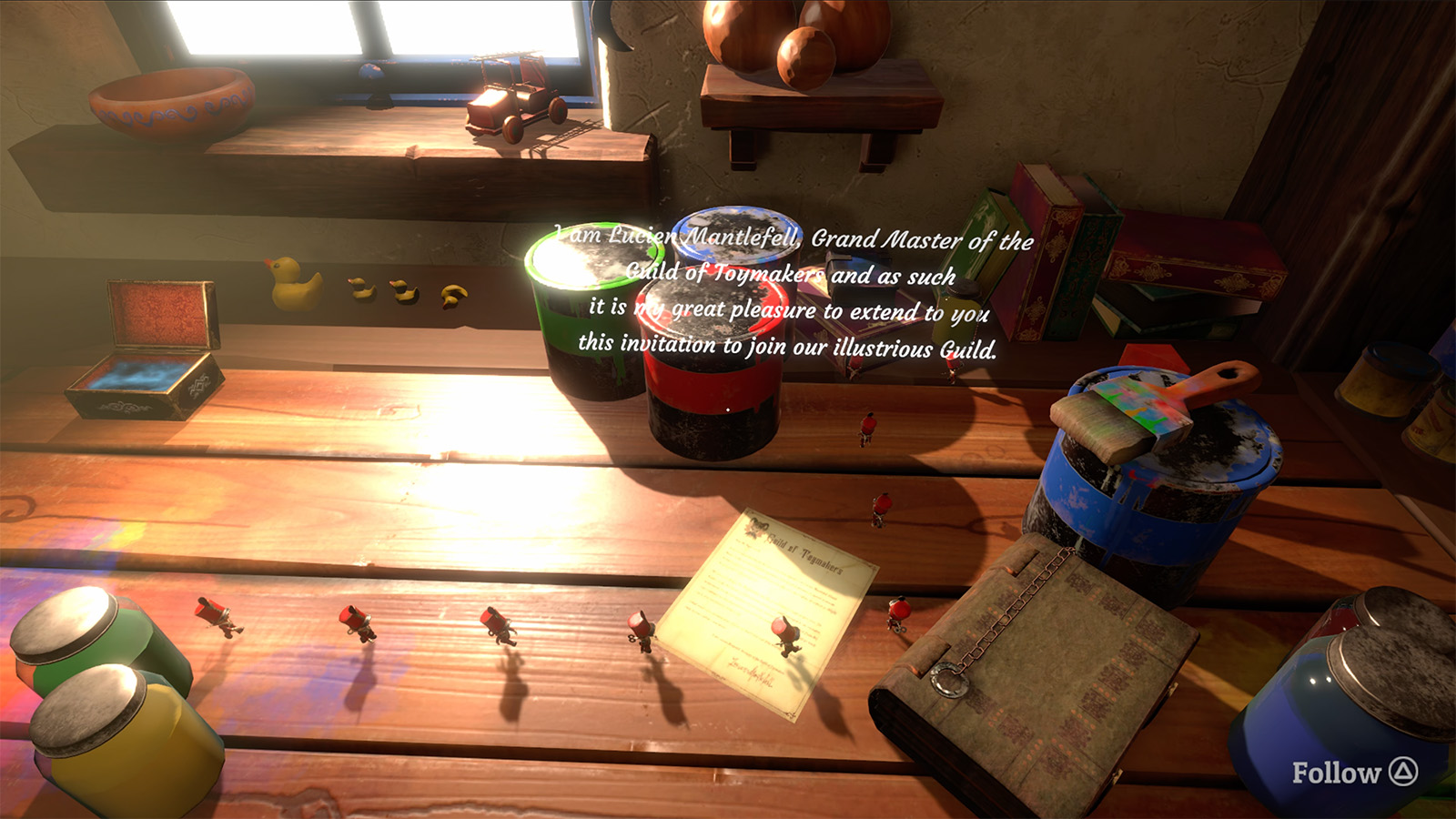 It's while exploring the Butterworth home and helping soldiers that you'll experience Tin Hearts' story of tragedy and love. While making my way through levels, I was presented with memories of the Butterworth family; Albert, his wife Helen, and their daughter Rose. Throughout the game, I watched the characters interact with one another and bond as a family before tragedy struck.
Throughout Tin Hearts, I also triggered letters between Albert and the Guild Of Toymakers – an organisation he's trying to join to launch his career in toy making – and other characters. The flashbacks and letters covered a long period of time, generations even, and I won't spoil it, but the story was heartwarming and touching, albeit a little predictable. However, it was great seeing the narrative unravel, and it was a joy seeing the characters interact and how Albert's relationship with them and the Guild evolved throughout the course of the story.
One of the aspects I loved most about the game was its design, both visually and audibly. Each room within the home was filled with plenty of character, and the level design – particularly later in the game where puzzles became vastly more expansive and included intricate puzzle solving and platforming – is some of the best I've experienced in a puzzle game.
Rooms throughout the Butterworth home felt lived in and cluttered with various everyday objects as most homes do, and it's all of this that cleverly forms the obstacles the tin soldiers must navigate; dinner plates, various decor, family photos in frames, books, workshop tools, children's toys, and more.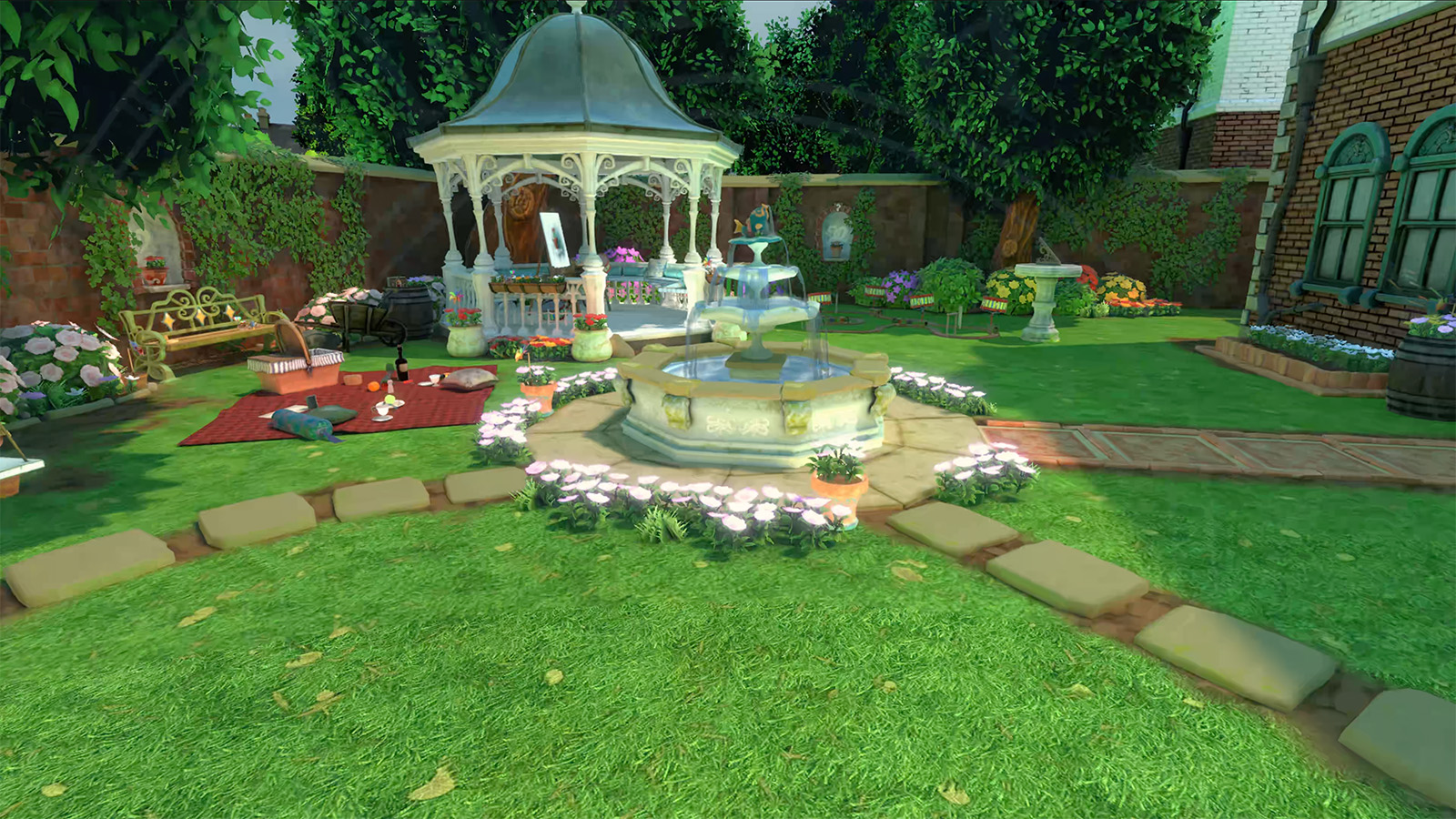 The excellent game design was bolstered by the gorgeous musical score by Matthew Chastney, who previously worked on trailers for Joker, Chernobyl, and Bridgerton. The score aided in cementing the Butterworth home as a place of magic, love, and eventually loss, all without overtaking the game's initial tranquil and leisurely pace and mood.
My only gripe with the game's design is that Tin Hearts' characters models do look a little outdated when compared to the detail poured into the Butterworth family's home, but their appearance did nothing to hinder my experience, particularly as I could easily feel the love and thought that has been poured into everything.
A Stellar Debut Title
Tin Hearts is ultimately an enjoyable puzzle game with lots of heart that will appeal to anyone who enjoys the classic Lemmings gameplay but with a few twists and a deep story. It was a joy to play, and although I did have some issues in regards to controls, dodgy cameras, and the game's length – it could have been a tad shorter – it was never enough to ruin my experience.
A wonderful and heartfelt debut by Rogue Sun, Tin Hearts lays a strong foundation for the newfound studio, and I'm looking forward to seeing how the team grows with its narrative-first approach and fun gameplay.
Tin Hearts (2023) Final Thoughts
Rogue Sun's debut title Tin Hearts is a charming puzzle platformer with a heartfelt story that will leave you scratching your head while basking in the tranquil and cosy atmosphere of the Butterworth family home.
Review copy provided by Rogue Sun, Wired Productions, and Renaissance PR.
Tin Hearts is out now for Nintendo Switch, PC, and PlayStation and Xbox consoles, and it will launch later this year for PS VR2, PCVR, and Meta Quest 2.