Sony Details How Deathloop Will Utilise PS5's DualSense Features
Sony has explained how Deathloop will use the DualSense controller's haptic feedback and adaptive trigger features.
The action-adventure video game, which is being developed by Bethesda Softworks' Arkane Studios, was set to release alongside the PS5 console but was disappointingly pushed back to 2021. Now, with several months still left before the game's release, Sony has explained how the upcoming game will use the DualSense's features.
According to a new post on the official PlayStation Blog by Bethesda Softworks Senior Content Manager Anne Lewis, Deathloop will use the DualSense's to enhance immersion, either by jamming the controller's adaptive triggers mid-firefight or by feeling the controller's haptic feedback to feel movement.
In Deathloop, players take on the role of either Colt or Julianna on the mysterious island of Blackreef which is stuck in a time-loop. Players who take on Colt's role will be required to assassinate eight targets before the day resets to break the loop all while being hunted by Julianne whose mission is to stop Colt and keep the time-loop going.
To aid Colt, players will have access to several dynamic weapons all of which feel different through the controller when firing, swinging, and reloading. Using the special PT-6 Spiker weapon, Lewis explains:
"This silenced nailgun is a brutal piece of art, and with the dynamic weapon system, you will feel each nail fall into the magazine with granularity every time you reload your weapon. Feel the resistance of the adaptive trigger as you hold to align your shot, and the immediate recoil and discharge when you fire."
Deathloop will also feature realistic weapons systems too so lower-tier weapons are more prone to jamming which cause the trigger buttons to jam halfway. As Lewis states in the blog post, "It's a momentary setback that could force you to retreat for a beat while you fix it. As you're watching your character on-screen punch the gun to get it in working order, you'll feel a correlating strike in your controller, activating the mechanism to unjam it."
The DualSense controller's support doesn't end there as the game will feature haptic feedback too. Through it, you'll be able to feel your character's movements via controller sensations when running, climbing, sneaking, teleporting, and sliding too. You'll also be able to feel different surfaces including dirty rooftops and snow.
Deathloop will also utilise the DualSense controller's speaker too through which you'll hear bullets whizzing past your character's head, Julianna's taunts from your personal radio as she tracks you across Blackreef, the click of your weapon trigger, and more.
Deathloop Pre-Order Bonuses
Deathloop will release May 21, 2021, for PS5 and PC, with an Xbox release coming in 2022. The game can be pre-ordered in two versions; a standard edition and a deluxe edition.
According to the PlayStation blog post, the standard edition will come with the complete game and the three following pre-order bonuses:
Unique Weapon: Royal Protector Machete (PS5 Exclusive)
Character Skin: Storm Rider Colt
One Trinket (Equippable Buff)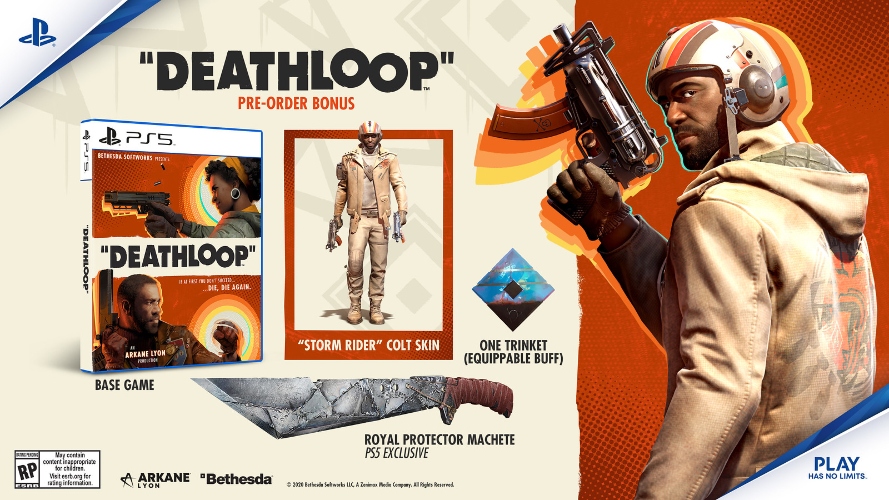 If you pre-order the deluxe edition, you'll be able to enjoy the base game along with the following bonuses:
Unique Weapon: Transtar Trencher (PS5 Exclusive)
Unique Weapon: Eat The Rich Tribunal
Unique Weapon: .44 Karat Fourpounder
Character Skin: Party Crasher Colt
Character Skin: Sharp Shooter Julianna
Original Game Soundtrack Selections
Two Trinkets (Equippable Buffs)
In addition, you'll also gain the following pre-order bonuses:
Unique Weapon: Royal Protector Machete (PS5 Exclusive)
Character Skin: Storm Rider Colt
One Trinket (Equippable Buff)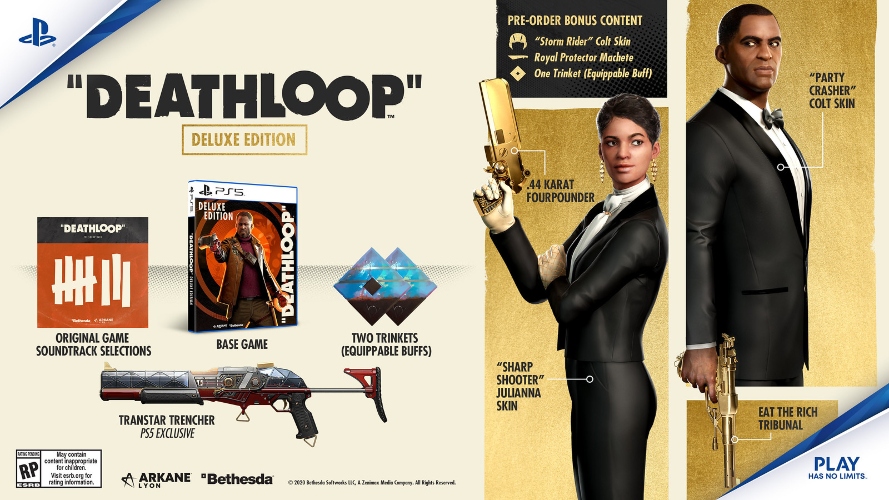 You can pre-order Deathloop over at the PlayStation Store right now.