Maono GamerWave Review: A Low-Cost Microphone That Delivers
The Maono GamerWave is the latest microphone released by Maono, which, in the company's words, was designed for game enthusiasts. Priced at just over $30, the microphone can serve as an excellent gateway for someone looking to get into streaming, YouTube recordings, or simply playing online, but is it worth the buy? Let's take a look.
Maono GamerWave Design
The entire microphone package consists of a hinged joint to attach the mic to a boom, a USB cable, and an all-in-one microphone in a tiltable desktop stand made from a light plastic with an attached pop filter to filter noise, shock mount to reduce setup vibration noises, and fastener. Unfortunately, none of the microphone's parts can be swapped or adjusted, which means you're restricted to using only what you get, but for first-timers and casual users which the kit seems to be targeting, this shouldn't be an issue.
The microphone itself is available in three colours – black, white, and pink – and it's pretty minimalistic and smooth, with the Maono logo displayed on the pop filter and shock mount. It's not too different from the design of competitor microphones around the same price, and the Maono GamerWave should appeal to all fans of minimalistic design. 
At the top of the mic are two easy-to-hit switches that allow you to change the RGB lighting of the Maono GamerWave and to enable or disable noise cancellation and to mute with added LED lighting to indicate whether the mute function is active or not. At the base of the microphone is an adjustable gain to control the GamerWave's sensitivity to suit your needs and environment. There's also a 3.5mm headphone jack that you can use for real-time monitoring of your sound.
The Maono GamerWave comes with RGB lighting that illuminates the microphone capsule, and you can select from dynamic breathing light, six individual static solid colours – orange, yellow, green, blue, purple, and red – or a dynamic multi-colour gradient, with adjustments made by hitting the RGB lighting switch at the top of the mic.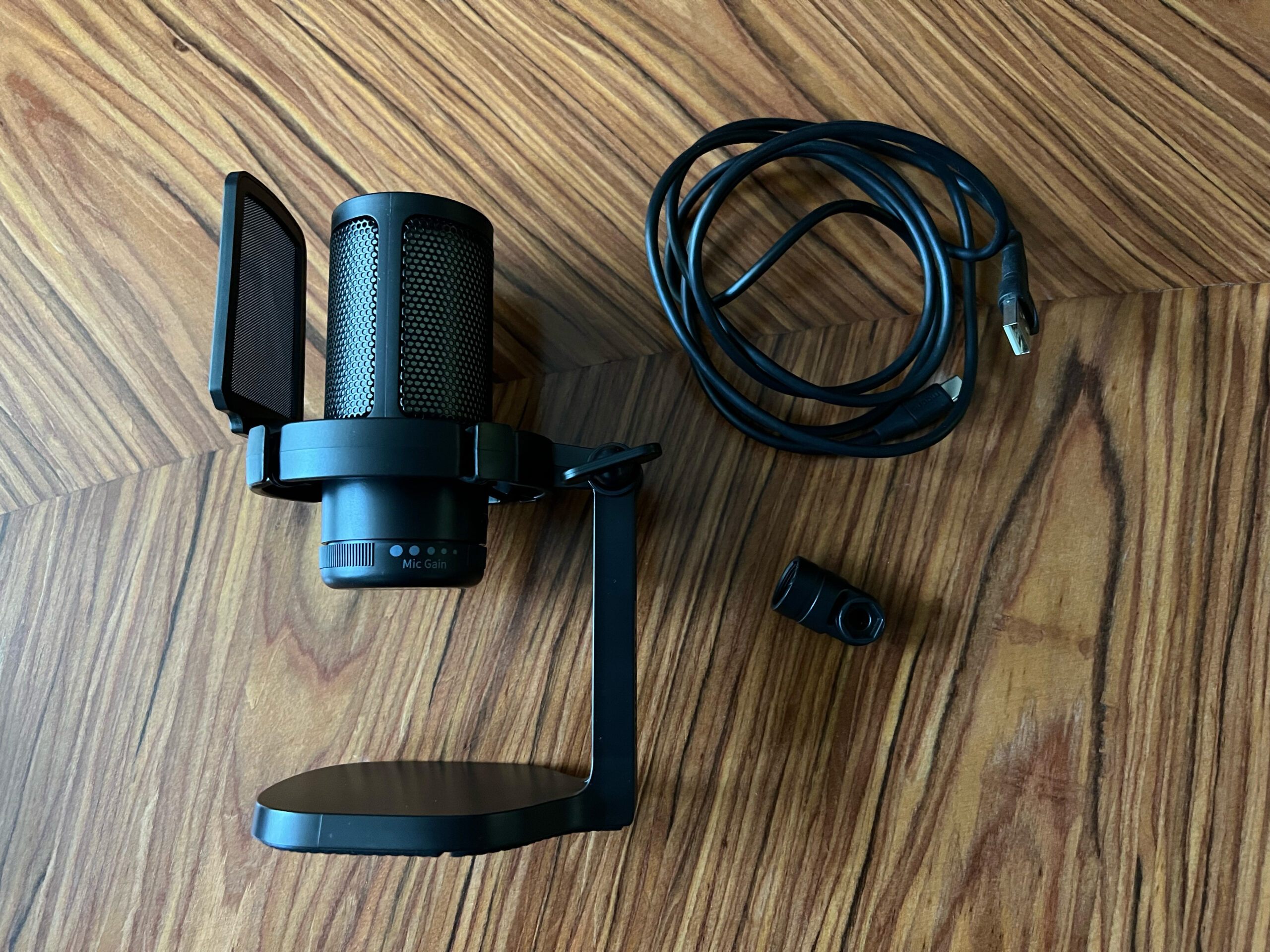 The microphone utilises a USB-C port and is connected via a single cable with a converter, allowing you to utilise USB-A and USB-C ports on other devices – very useful for anyone with the latest USB-C port only MacBook like me! One of my frustrations with the microphone comes as a result of the included cable, as I often found that it was sometimes too short to use and freely move around, forcing me to use the mic in an uncomfortable or unusual position. This can be a bigger issue if your PC's USB ports aren't close such as under your desk, for example, which can place the microphone in an awkward spot to record properly.
Another minor complaint I found with the microphone's design was the non-adjustable stand. Although you can tilt the microphone, It would have been great to be able to adjust the mic's height by a few inches without having to use a boom or other equipment, which is something a lot of first-timers may not necessarily want to invest in or buy. With the mic marketing itself as an all-in-one, adjustable height could have made it all the better.
For the price, the Maono GamerWave provides you with a lot, particularly for anyone new to using microphones for content creation, and although some of the design choices – the forced height and USB cable length – can be a little frustrating, it's nothing that should ruin your experience, particularly for the price you're paying. 
How Does The Maono GamerWave Perform?
The Maono GamerWave microphone was essentially plug-and-play with my 2022 MacBook Pro, and it worked seamlessly with OBS without having to tinker with any of the Mac's settings – just remember to select the microphone as your audio input device on OSB. The microphone also worked seamlessly with my PlayStation 5, plugging in via USB-C or A, and recording again without having to meddle with any major settings – make sure to head into your settings to select it as your microphone over the DualSense's. 
While using it, I was surprised by the clarity of the microphone and its ability to reduce other noises, while bolstering my voice. At the highest gain, the Maono GamerWave was even able to pick-up the low humming of the fish tank in my living room when tested. However, at the highest gain, the microphone suffered from some static, which significantly dropped the quality of the audio – this is something you'll need to play around with to find the setting that suits you best.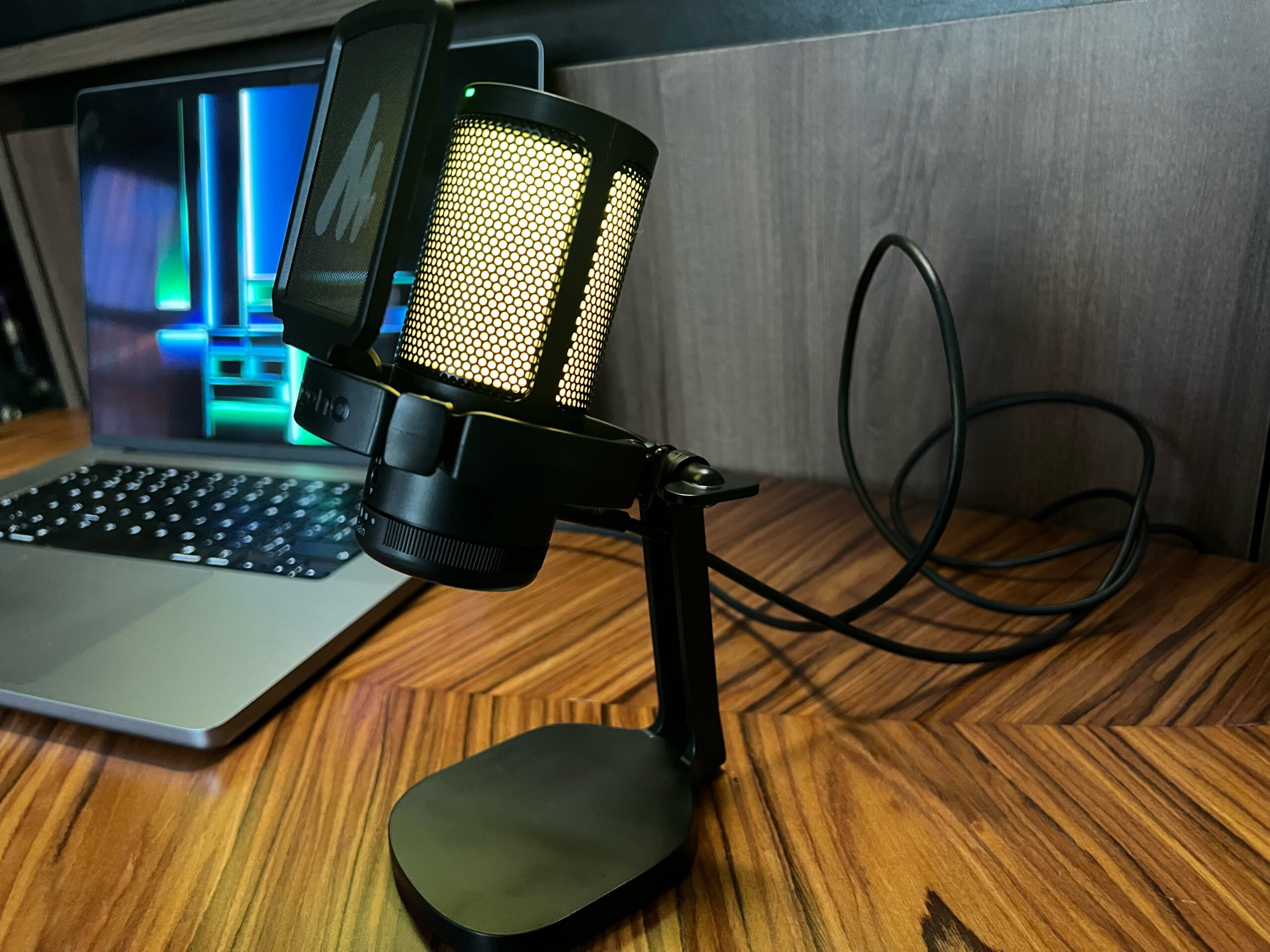 The Maono GamerWave benefits from a high sampling rate, and it comes with ENC noise reduction features, which, when enabled, managed to completely remove the low buzz from my living room's fish tank, making for a much more pleasurable audio experience. This even applied but didn't completely silence the clicks of my PS5's DualSense controller buttons and the clacking of my MacBook's keyboard when the microphone was held close to both gadgets. 
However, I did find that applying noise cancellation drowned my voice a little too much, even with high mic gain, and this might be something that you use rarely and will need to fiddle with to achieve the best possible audio.
Is The Maono GamerWave Worth Buying?
The Maono GamerWave is essentially a great microphone entry point for anyone looking to make gaming content or for simply playing online. For anyone already with a mic, someone needing something a little more upmarket, or someone who needs more adjustability with their microphone setup, you'll likely want to skip out on the Maono GamerWave and grab something else. 
Maono's GamerWave connects to most devices without issue, offers adjustable lighting to fit in seamlessly with your setup, and features quick one-tap buttons to provide you with absolute control over most elements of the microphone, and all of this is available for a lower price when compared to other competitor mics, giving you what you need to get started and at a good price.
Maono GamerWave Final Thoughts
The Maono GamerWave is a great all-in-one starter microphone kit that comes with everything you need to get started for anyone looking to get into web content creation. There's plenty to enjoy here, but if you need something a little more customisable or advanced, you'll want to look elsewhere.
The Maono GamerWave Microphone is out now and you can grab it over at Amazon.com.