How Many Missions Are In Final Fantasy XVI (16)?
There are a atotal of 68 missions in Final Fantasy XVI, which tell the story of Clive Rosfield's quest for revenge across several decades, a journey that takes you across the land of Valisthea, where you'll encounter numerous nations fighting for resources as a disease known as the Blight consumes the continent. You can find a complete Final Fantasy XVI mission list below, helping you work out how far you are in the 35-plus-hour game.
Final Fantasy 16 Mission List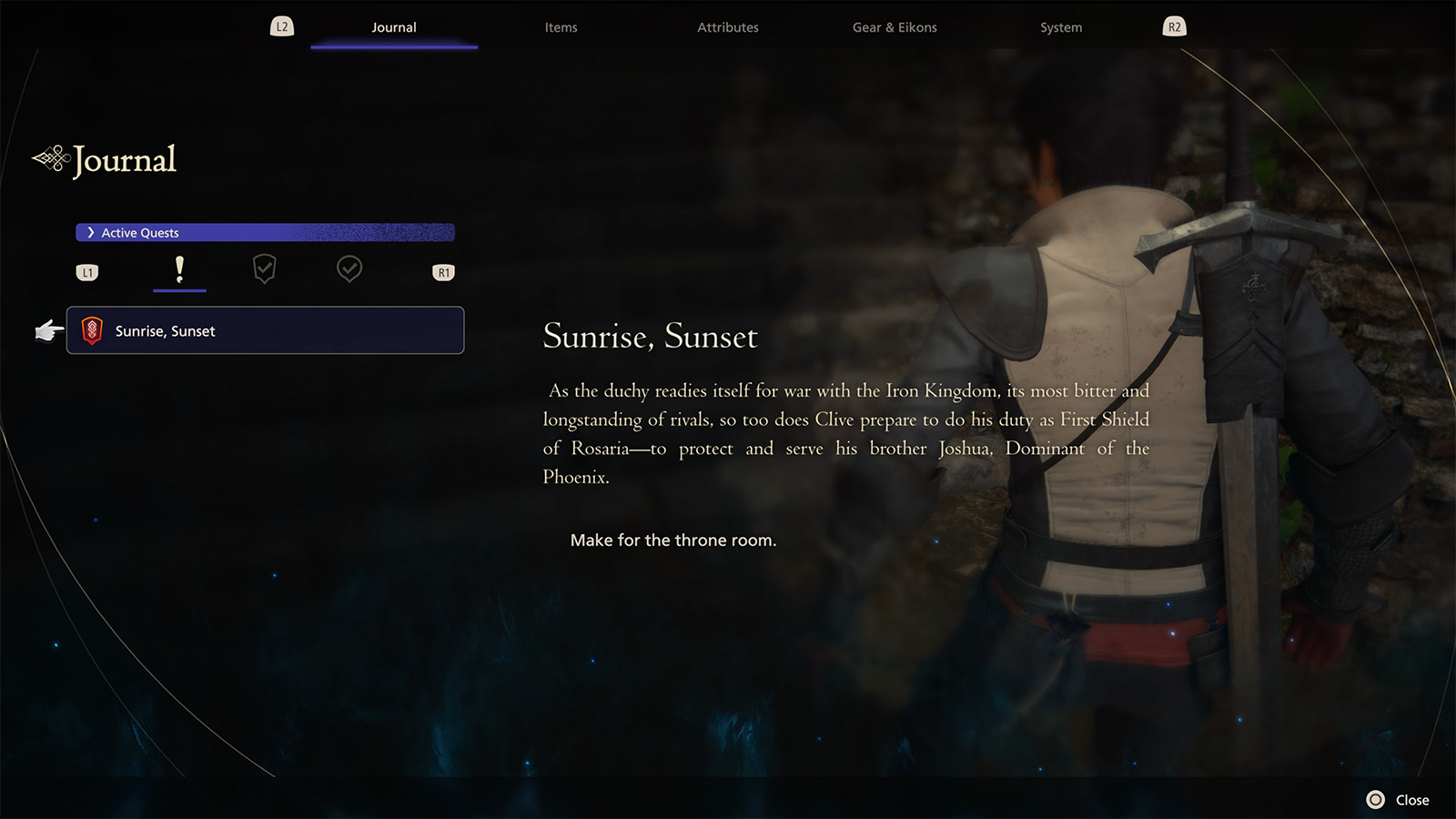 All 68 missions in Final Fantasy 16 must be completed to finish the game, and none of the missions can be skipped. You can check on your active quest by opening your Journal, which lists all available main and side missions, as shown above.
Several of the game's main missions will require you to complete a few side quests to continue with the game, and some of the main missions have sub-quests to complete too.
Here's our complete Final Fantasy XVI mission list:
A Flame Summoned
To Kill A Dominant
Pride
Sunrise, Sunset
Lost In A Fog
Flight Of The Fledgling
A Chance Encounter
Hide, Hideaway
Fanning Embers
Louder Than Words
The Dead Of Night
Headwind
Wings Of Change
Awakening
The Wages Of Guilt
The Hunter And The Hunted
Homecoming
Building Bridges
A Bearer's Lot
Holding On
Back In The Day
Buried Memories
The Meaning Of Life
Righting Wrongs
The Dame
The Crystals' Curse
Cid The Outlaw
Home, Sweet Home
The Gathering Storm
Dark Clouds Gather
Release
Bloodlines
Black Light Burns
Black Or White
Here Be Monsters
Fire And Ice
After The Storm
Capital Punishment
Bolts From The Blue
Getting To Work
Riddle Of The Sands
Follow The Crystals
Into The Darkness
Out Of The Shadow
Letting Off Steam I
Letting Of Steam II
Letting Of Steam III
Onward
To Catch A Thief
Blood From The Stones
Fire In The Sky
Things Fall Apart
The Flames Of War
Why We Fight
Down The Rabbit Hole
Cloak And Dagger
Evenfall
A Song Of Hope
Like Father, Like Daughter
Full Steam
Through The Maelstrom
Across The Narrow
Footfalls In Ash
The Last King
Brotherhood
Streets Of Madness
Back To Their Origin
Of Gods And Men
The 25th mission – The Dame – marks the game's point of no return. All side quests available before it can no longer be completed, so it's best to complete as much as possible before finishing that mission.
That's it! Now you know how many missions are in Final Fantasy XVI and can enjoy exploring Valisthea and helping Clive on his journey.